Irina Varzari is a licensed aesthetician in Maryland and Washington, DC, with over ten years of high-level aesthetic experience in Europe and the United States.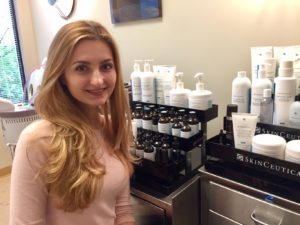 Born and raised in Moldova, Irina studied the European school of cosmetology at the Christine Valmy International School in Romania and she received her cosmetologist diploma from the Mondostud Art College in Moldova.  She began practicing aesthetics in 2008, combining cutting edge technology and mastery of application to help patients with all skin types and conditions achieve healthy, beautiful skin.
After moving to the United States in 2013, Irina furthered her aesthetic studies and graduated from the prestigious Von Lee International School of Aesthetics in Maryland in 2015. She has been working as a licensed medical aesthetician in the DC Metropolitan area ever since. 
With her extensive education, European professional background, and the more recent experience in the U.S., Irina brings a unique fusion and in-depth understanding of skincare with an emphasis on patient education, skin health maintenance, and prevention. Irina is also a talented makeup artist giving her a unique perspective on the connection between skin health and wellness. She believes that improvements in skin conditions make women and men more confident about their appearance, resulting in positive self-esteem and making a difference in their everyday lives.
Irina's strength is her special "touch" in the application of even the most complicated aesthetic procedures.  Additionally, she prides herself on educating patients to understand the symptoms and causes of skin-related concerns and the needed daily skincare regimen to tackle problems that come from sun exposure, environmental damage, natural aging, and hormonal imbalances that cause acne, rosacea, and melasma.
Irina offers medical-grade facials, chemical peels and teen acne facial treatments in our Chevy Chase office on Thursdays from 10 am to 4 pm.
Call 240-482-2555 for an appointment with Irina today!
---